Please Log in to share and download files.
NETWORKING CYBER CAFE WORLD WIDE
If you Run a CyberCafe then you are on the right page , be member of Cyber Association and you will be 100% sure of what is happening in your cafe.
REGISTER WITH US TO SECURE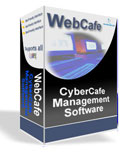 - Complete Cyber Cafe Management.
- Complete Billing, Accounting, Security, Cyber Laws Compliant.
- Save Approx Rs 18000 Per Year -Earn Revenues by using our software.
Dear Cyber Cafe Owner,
As it must be in your knowledge already that Government of India has issued New rules for Cyber Cafe business on 11th April 2011 vide an amendment in Information Technology Act, 2000. Past 10 Years of our business has seen many ups & downs and I am sure like me, you also often felt that it was required to have a standard set of rules for cyber cafes across the country rather than having different rules in different cities/states. Purpose of this mail is to highlight few important points mentioned in Rules formed by Government of India and to bring them to your knowledge in case you have missed. Cyber cafes across India suffer many times unknowingly due to misuse of facility provided by them. Beside this most of the cyber cafes majorly in metros were facing issues in getting a license to run their business. Because of all these reasons, Cyber cafe business with each passing day was getting difficult to operate. On above lines, New rules from Government of India are surely of help to this business. For example, Now a cyber cafe does not have to worry about having a license to do business. All they need to do is to provide their business details to a Registration Agency and start operating their cafe post getting a registration number. Myself and team will be in touch with you on all further developments, still in case you require any further Information feel free to email me directly on ID mentioned below.
HELP

CLICK HERE FOR WEBCAFE HELP
support timing (09.30 AM to 09.00 PM IST)


Support Contact Details
PHONE : (0091) 022 31905566 / 31925566
EMAIL : webcafev3@moryaas.com

CLICK HERE REMOTE SUPPORT

AMMYY
TEAM VIEWER